Driveway Sealing
Block Paving and PIC Sealer
Paving sealer is an ideal solution to help eradicate the constant problems of both staining and weed growth whilst maintaining aesthetic appeal and colours.
New or existing driveways can be enhanced with an application of specialist sealant which reacts with natural pigments to privide an easy-to-maintain finish as well as hardening the surface.
Features
Enhances colours.
Brings old paving back to life.
Resists oil and other stains.
Inhibits weed and algae growth
Tarmac Restoration
Tarmac and Asphalt driveways are the most common type and when first laid has a good uniform neat finish, and will be dark black.
However, very quickly the colour starts to fade and over time will grey and loose it's attractiveness. Our back to black application adds a new hard wearing surface on top of the original Tarmac surface giving that newly laid look!
Features
Low cost alternative to replacement.
Protects against general wear during use.
Binds loose surface stones.
Severely inhibits weed and algae growth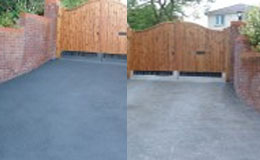 General Repairs
Whether you have loose borders, unsightly cracks or holes appearing in your Tarmac, we are happy to help no matter how small the job.
Please contact us for a quote and general advice.